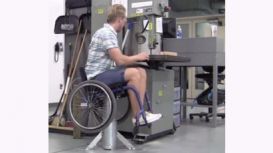 The top shelf of items at the grocery store is a known nemesis of manual wheelchair users. So tantalizing close, yet so often out of reach. But what if there was a way to change that? What if there was an easy, safe way to boost your chair a foot off the ground? MeetLevaté. The brainchild of a team of students at the University of Oklahoma, Levaté aims to do for manual wheelchair users what seat elevators do for power chair users.
The idea is a lightweight lift that could be easily attached and detached to the bottom of a manual chair and would use compressed air to boost the user and user's chair 12 inches. The team is currently working on a heavier aluminum version as proof of concept, but Levaté CEO and Co-Founder Dillon Carroll says they envision using lighter materials to keep the final weight of the actual product under 10 pounds.
---
Reviews and Ratings
We do not have any reviews about Mobility Buy available right now.