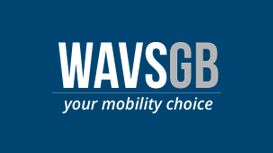 Recently, the brother of one of our staff became wheelchair bound and needed a wheelchair access vehicle. Ivor Jones, thought it would be easy to source a vehicle that would meet his brother's requirements. His experience was quite different. When Ivor raised this at a meeting of our commercial vehicle division, VansGB, it was suggested that we started a new division to provide wheelchair access vehicles to customers strictly according to their needs and to provide the personalised, understanding, ethical and professional service that seemed to be missing.
Today, WAVSGB is one of the leading suppliers of wheelchair access vehicles covering Midlands, Gloucester, Wales, and South West England.
---
Reviews and Ratings
Ivor and his team at WavsGB - have been exceedingly helpful.

They have helped me choose a car with space for a wheelchair and even brought it to my home for me to try myself away from the forecourt. I never felt as though I was being 'sold to' which is always a danger with car dealers.. in fact every question I asked was answered honestly and I was given some remarkably good advice on how to get more help.

I would happily recommend WavsGB to anyone!